Veneers in New York, NY
Do you feel self-conscious about your smile? Do you hide your smile due to discolorations, crooked teeth, or other imperfections? If so, our dentist Dr. Tuyen Lehmann can help you achieve your dream smile with the help of dental veneers. These thin porcelain shells are bonded permanently to the front of your teeth to craft your dream smile's overall shape, size, and color. There's a reason veneers have become one of the most popular treatments we offer here in New York City.
What are Dental Veneers?
You might be surprised to discover that simply by bonding these medical-grade porcelain shells to the front of your teeth, we can easily help reshape and improve your smile. Veneers are designed to mimic the look of real tooth enamel, so even if you decide to only get veneers on a couple of teeth, they will blend right in. After all, our New York City cosmetic dentist Dr. Lehmann is as much a doctor as she is an artist. We can learn more about your cosmetic needs when you come into our office for a consultation and determine if veneers are the best approach. Veneers can be great for,
Brightening smiles and hiding stains and discolorations that are resistant to whitening
Covering gaps between teeth and making smiles straighter (without braces)
Improving the overall length and shape of your teeth
Hiding cracks and chips
Improving gummy smiles
Making teeth more durable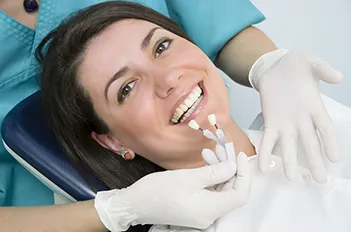 What Should I Expect from the Dental Veneer Procedure?
There are several steps involved in getting your new smile, but it usually only takes about 2-3 visits to our office to get veneers. The first visit involves a comprehensive consultation in which we make sure your smile is healthy enough for veneers. Once Dr. Lehmann has determined that veneers are right for you, we will schedule your tooth preparation appointment.
Getting Teeth Prepared for Veneers
In order to make room for your veneers, we need to first shave off a very small amount of enamel from the front of your teeth. This process is minimally invasive and painless. Once teeth are prepped, we will take impressions of your mouth. Veneers are custom-made to fit your smile and your smile only, so impressions are needed for our trusted dental lab to craft your perfectly fitted veneers.
Placing Your Veneers
Once your veneers have been made, the final step is to have you come in one last time for a fitting. We will temporarily apply the veneers to make sure you love how they look. Once you give us the approval, we will permanently bond the veneers to your teeth.
How Long do Veneers Last?
Veneers are incredibly durable and can last up to 20 years or longer with the proper care. Of course, it's your job to make sure you are probably caring for your veneers and keeping them clean and healthy. Our dental team will provide you with care instructions so you know how to maintain your beautiful smile for as long as possible.
If you are interested in what dental veneers can do for your smile, or you're ready to take the next steps toward your dream smile, call our New York City dental practice today to schedule a consultation with Dr. Lehmann.
If You Are Interested In Transforming Your Smile With Veneers, Call Tuyen Lehmann, DDS In New York, NY At (212) 213-6555 Today!